After 10 years of a faux democracy, Myanmar has once again been plunged into full military rule. On February 1st, NLD (National League for Democracy) spokesman Myo Nyunt said that State Counsellor Aung San Suu Kyi, Myanmar President Win Myint, NDL Central Executive Committee member and spokesman Han Tha Myint, as well as other senior party members, were "taken" following a raid early in the morning. NLD spokesman Myo Nyunt stated that he also expected to be detained.
Following this, numerous communication channels were cut off. Phone lines into the capital city of Naypyidaw, stopped functioning. State run television network MRTV said that it was unable to broadcast to the public due to "technical issues". According to Human Rights Watch, communication networks were shut down through the use of disruption techniques targeting cellular services and "kill switches" to cut internet traffic. Internet was interrupted for several hours throughout a large majority of the country, including Naypyidaw, Yangon, Mandalay and Sagaing Regions, and Shan and Kachin States.
Military leaders justified their takeover by claiming without evidence that the election which saw Suu Kyi win, was fraudulent.
On February 3rd, several charges were filed against State Counsellor Aung San Suu Kyi and President Win Myint. The charges against Aung San Suu Kyi include breaching import and export laws, and possession of unlawful communication devices. It is reported that Ms Suu Kyi is being held at her residence in Naypyitaw. Neither Win Myint or Ms Suu Kyi have been heard of since the military raid early Monday morning, February 1st.
Accusations against Ms Suu Kyi are that she illegally imported and used communications equipment, which were found at her home. President Win Myint is being accused of meeting supporters during an election campaign, in breach of COVID-19 restrictions, under the National Disaster Management Law.
Protests break out against military coup
Tens of thousands of people have taken to the streets of Myanmar on Sunday to demand an end to the military coup, and to demand that Aung San Suu Kyi, as well as other leaders, be released from custody. People carrying balloons with the colors of the NLD, some wore shirts with the same colors. Protesters gathered in Yangon, shouting anti-military chants, and waving a flag representing the NLD party.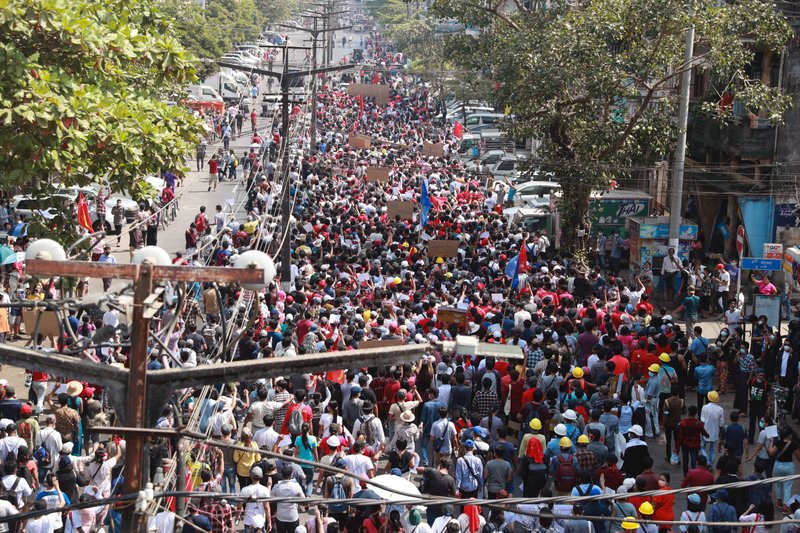 Police, some armed with riot shields, set up barricades in the streets, but otherwise did not interfere with the protests.
It is now the second straight day of protests in Yangon, Myanmar's most populated city. The protests on Sunday were the largest protests in Myanmar since the "Saffron Revolution" in 2007, which led to a brutal crackdown by the police and military.
21 year old Thaw Zin, one of the many people who gathered on Sunday, said, "We don't want a dictatorship for the next generation or for us," he said, shaking with anger and emotion, "If we don't stand this time for our country, our people, there is no one. Evil will fall on us. We will never forgive them for the trouble they have brought to us."
Some people echoed Thaw Zin's feelings, carrying signs that said "You fucked with the wrong generation".
The History
From 1962 to 2011, numerous military juntas ruled over Myanmar. From 2011 to 2012, there were an ongoing series of political, economic, and administrative changes taken in Myanmar. The reforms included numerous things, inluding the release of Aung San Suu Kyi from house arrest, establishment of the NHRC, the National Human Rights Commission, general amnesties of 200+ political prisoners, institution of newly formed labor laws that allowed labor unions and strikes, relaxed rules on press censorship and regulations of various currency practices. Myanmar was rewarded for the reforms, with ASEAN approving Myanmar's bid for chairmanship in 2014. In 2011, for the first time in over 50 years, a U.S. Secretary of State visited Myanmar. Then Secretary of State Hillary Clinton visited Myanmar to encourage further progress, and further reformations.
The National League for Democracy, led by Suu Kyi, participated in by-elections, which were held on April 1st, 2012. Ms Suu Kyi led the NLD winning the by-elections in a landslide victory, winning 41 of 44 contested seats, and Suu Kyi herself winning a seat representing the Kawhmu Constituency in the lower house of Myanmar's parliament.
In the 2015 General Elections, the National League for Democracy ended up securing an absolute majority of seats in both chambers of Myanmar's parliament, resulting in it securing enough seats for its leader to become President, which caused problems, as Aung San Suu Kyi is constitutionally banned from becoming President. The new parliament then convened on February 1st, 2016, on March 15th, 2016, Htin Kyaw was elected as first non-military President of the country since the military coup of 1962. Aung San Suu Kyi assumed a newly created role, State Counsellor, a position most comparable to Prime Minister, on April 6th, 2016.
Myanmar's transition to democracy was a difficult one, despite hope for a successful transition. Internal political strife, economic issues and ethnic turmoil resulted in the transition becoming a bit of a mess. In 2017, a prominent Muslim lawyer, and senior member of the governing National League for Democracy party, Ko Ni, was assassinated. It was seen as a crushing blow to the faux democracy that had been established. The murder of Ko Ni stripped Aung San Suu Kyi of her perspective as an advisor to nation.
Global reaction
Bangladesh, China, India, Indonesia, Malaysia, Pakistan, the Philippines, South Korea and Singapore expressed concern following the coup, with many encouraging dialogue between the government and military to resolve the issue. Australia, Canada, France, Germany, Japan, New Zealand, Spain, Sweden, Turkey, the United Kingdom, and the United States condemned the coup and called for the release of the detained officials. The White House threatened sanctions on the perpetrators of the coup. Cambodia, Thailand and Vietnam flat out refused to support the military or the government, explicitly stating that the coup was an "internal matter".
The United Nations, European Union, and the Association of Southeast Asian Nations (ASEAN) all expressed concern and called for dialogue between both sides. The European Union condemned the coup, and called for the release of those detained.
The United Nations Security Council conducted an emergency meeting as a response to the coup. During the UN Security Council meeting, a British-drafted resolution that condemned the action by the military, called for the release of detainees, and urged those involved to restore democracy, was proposed. Diplomats of China and Russia are said to have to relay the draft to their respective governments for review, which means that it did not garner support from all 15 council members, therefore the statement was not issued. India and Vietnam which are not permanent members, both "voiced reservations" about the United Nations resolution.
China's state-ran Xinhua news agency described the coup as a "cabinet reshuffle".
A large group of about two hundred Burmese expatriates and some pro-democracy activists from Thailand including Parit Chiwarak and Panusaya Sithijirawattanakul gathered at the Myanmar Embassy in Bangkok, Thailand to protest the coup. Two protesters were injured and hospitalized following a police crack down, with two more being arrested. A group of Burmese citizens in Tokyo, Japan gathered in front of the UN University to protest the coup. More than 150 Burmese Americans protested in front of the Myanmar Embassy in Washington, D.C. on February 3rd.
Residents in major Myanmar cities showed dissent to the coup by banging pots and honking their car horns, after Suu Kyi urged supporters to protest the coup. Staff at hospitals and medical centers protested the coup by walking out, and people wore ribbons to show their opposition to the coup.
What now?
Well, for starters, this is the first major foreign policy test for newly elected U.S. President Joe Biden. Former President Barack Obama, whom Joe Biden served for as Vice President, was the first U.S. President to visit Myanmar in 2012, now President Biden needs to figure out how the U.S. is going to handle the coup.
White House spokeswoman Jen Psaki said that President Biden was briefed on the situation and that the United States "opposes any attempt to alter the outcome of recent elections or impede Myanmar's democratic transition, and will take action against those responsible if these steps are not reversed,". Jen Psaki said that the Biden administration is "reviewing" sanctions authorities, suggesting that sanctions on those responsible for orchestrating the coup are possible.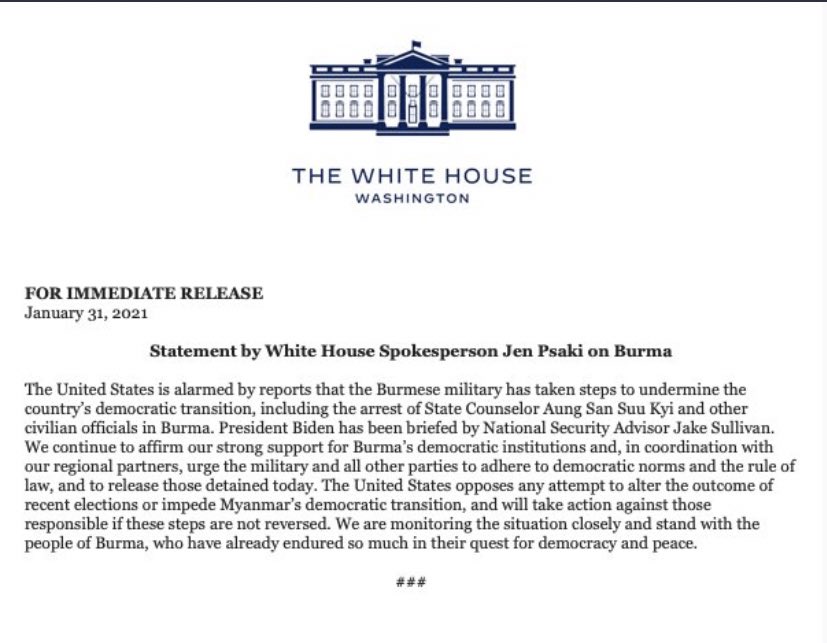 U.S. Secretary of State Antony Blinken released a statement saying that the United States expressed "grave concern" over recent events and that the United States "stands with the people of Burma in their aspirations for democracy, freedom, peace, and development,". SecState Blinken then called on the Myanmar military to reverse actions "immediately".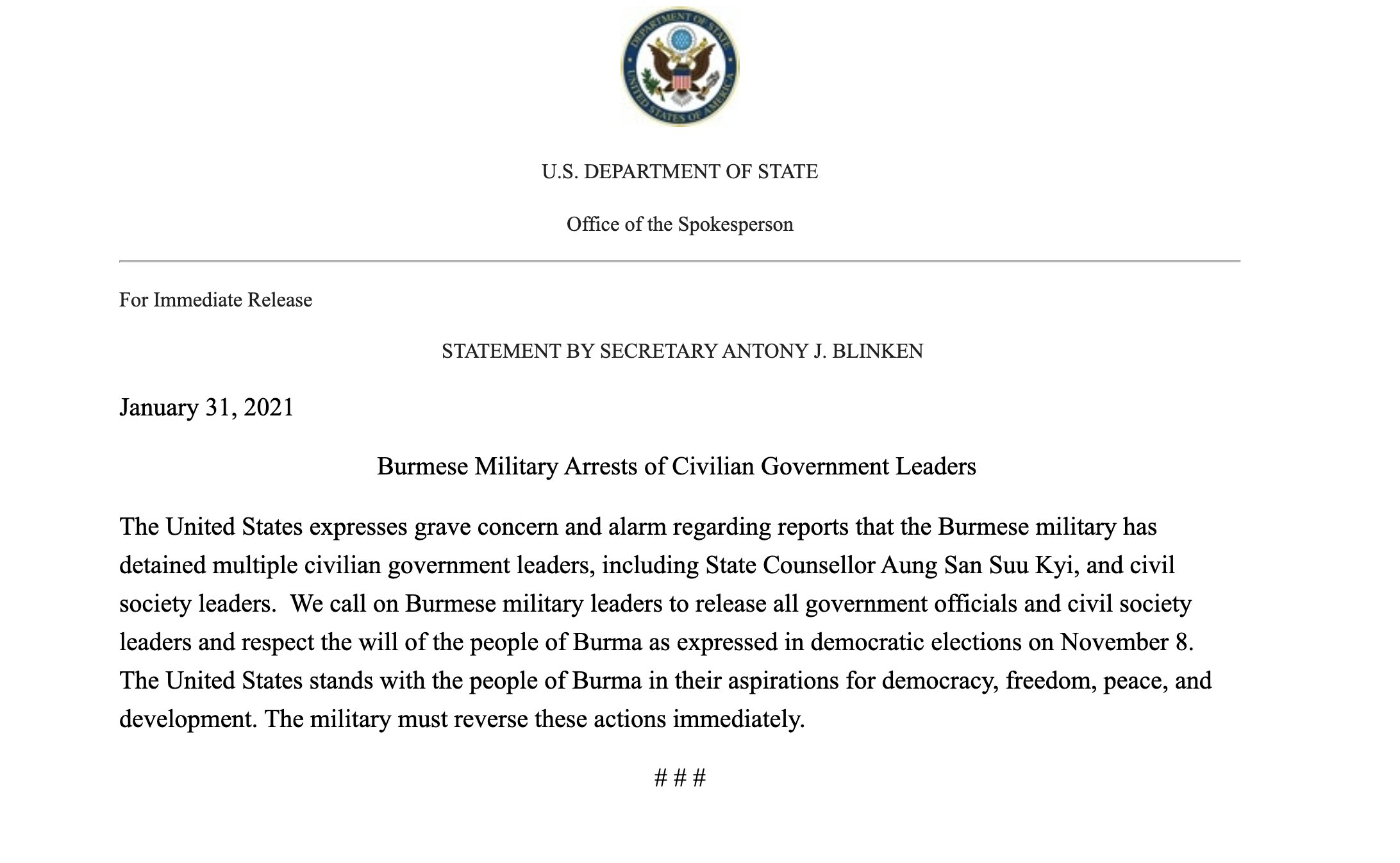 Power has now been handed over to Commander-in-Chief Min Aung Hlaing. Min Aung Hlaing has long wielded a large amount of political power, maintaining the power of the military, even as the country shifted towards democracy. Hlaing has been subject to international condemnation and sanctions for his alleged role in the Myanmar military's attacks on ethnic minorities, including the Rohingya. The Myanmar military, following the coup and assumption of power, replaced ministers and deputies including in finance, health, foreign affairs and the interior department.